Father Vindicated after 6 years. Tracey Richter's ex-husband, Michael Roberts, filed several hundred charges against her in 2006 after public officials refused to act on his complaints. Buena Vista County Attorney Phil Havens had the charges dismissed in 2006, publicly stating of Roberts "There may be ulterior motives".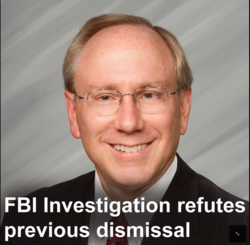 Embarrassed – FBI forensic investigation refutes Buena Vista County Attorney Phil Haven's previous dismissal of criminal charges
Attorney Phil Havens had a unique opportunity to take a monster off the streets back in 2006, instead she roamed free for another 5 years wreaking havoc on numerous families
Storm Lake, Iowa (PRWEB) December 11, 2012
New court records were released on the first anniversary of the 2011 murder conviction of Tracey Richter [Iowa vs. Tracey Richter [02811 FECR011900 (Sac County Iowa)]. According to these court records, a 2011 FBI forensic analysis of Richter's computer hard drive revealed that the criminal charges filed by Michael Roberts in 2006 were in fact supported by the digital artifacts recovered therein. Tracey Richter-Roberts is now serving a life sentence without the possibility of parole for murder in the first degree.
Michael Roberts, according to court records, survived an attempted murder at the hands of Tracey Richter in 2004[a]. After receiving the FBI report he said "Buena Vista County Attorney Phil Havens of Iowa had a unique opportunity in 2006 when I filed these charges, but had them dismissed". Roberts added "My faith in the justice system was restored 5 years later by a new breed of prosecutor who followed through to her guilty verdict".
[a] [Iowa Dept. Justice Crime Victims' Compensation Case 051667]
According to court records [Iowa vs. Tracey Richter-Roberts FECR037616 & FECR037675], Roberts filed almost 300 charges including attempted murder, false imprisonment, theft in the first degree; two counts of forgery; one count of perjury; one count of unauthorized computer access and 266 counts of unlawful interception of electronic communication. The court record reveals that Attorney Phil Havens recommended that the charges be dismissed and that Judge Robert Dull did so on 06/29/2006.
Long term incumbent Buena Vista County Attorney Phil Havens was defeated later that year by Attorney Dave Patton.
Michael Roberts appeared recently on 60-Minutes in a double length segment titled "A father's Fight". He told the story of his fight for justice and custody of his children who had been placed with the murderer for almost 8 years before her arrest. When asked why he appeared he said "I felt that I had an obligation to the truth in exposing an imperfect justice system, often managed by people in a position to act, but don't". He added "I also hoped that authorities would be pressured into allowing my kids to return home to Australia, as they were being held in the USA against their will".